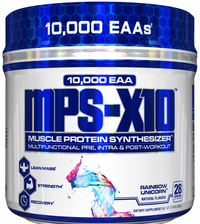 VPX Sports MPS-10
Delicious Multifunctional Pre-, Intra- and Post-Workout Drink
Looking for a great-tasting drink you can have pre-, intra, or post-workout? Well, Muscle Protein Synthesizer is the product for you!
MPS-X10 contains a full spectrum of essential amino acids (EAAs), which are the building blocks of muscle. 
Recent research suggests that EAAs are superior to branched-chain amino acids (BCAAs) for increasing muscle protein synthesis. What separates MPS-X10 from every other amino acid supplement on the market is the 2:2:1 leucine, isoleucine, and valine ratio of the BCAAs it contains.
Many supplement companies erroneously have increased Leucine content in the BCAA profile; however, this is scientifically flawed. MPS-X10 contains 10 grams of EAAs which is considered the optimal dose of EAA's to maximally stimulate muscle protein synthesis.
10,000 mg essential amino acids (EAAs).
7,500 mg branched-chain amino acids (BCAAs).
Scientifically proven 2:2:1 ratio of leucine to isoleucine and valine.
Supplement Facts
Serving Size 1 scoop (12.3g)
servings per container 28
amount per serving % DV
calories 5
total carbohydrate <1g <1%*
Essential Amino Acids 10,000 mg**
Branched Chain Amino Acids 7,500mg**
L-Leucine 3,000mg**
L-Isoleucine 3,000,g**
L-Valine 1,500mg**
Other Essential Amino Acids 2,500mg**
Other Ingredients: Malic Acid, natural flavors, citric acid, and sucrose.