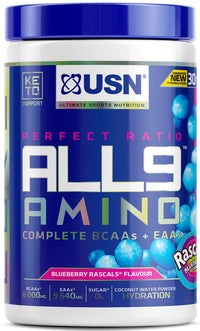 USN All 9 Amino 30 servings
The ultimate sugar-free stamina, hydration, and lean muscle recovery supplement with a 2:1:1 ratio of 5 g naturally fermented BCAAs and additional Essential Amino Acids. All9 Amino contains Coconut Water Powder and electrolytes for hydration and nerve function as well as Taurine and Glutamine to enhance physical performance.
INCREASES STRENGTH
INCREASES STAMINA
RECOVER FASTER
STAY HYDRATED
Supplement Facts
450 Grams
Serving Size: 1 Scoop (15g)
Servings Per Container: 30
Amount Per Serving % Daily Value
Calories 25
Total Carbohydrate 1 g <1%*
Vitamin C (as Ascorbic Acid) 90 mg 150%
Thiamin (as Thiamin HCI) 1.5 mg 100%
Niacin (as Niacinamide) 20 mg 100%
Vitamin B6 (as Pyridoxine HCI) 10 mg 500%
Vitamin B12 (as Cyanocobalamin) 3.5 mcg 58%
Pantothenic Acid (as Calcium D-Pantothenate) 9 mg 90%
Sodium 25 mg 1%
Instantly Soluble BCAAs 7.2g **
L-Leucine, L-Isoleucine, L-Valine
Essential Amino Acids 2.8g **
L-Lysine, L-Threonine, L-Phenylalanine, L-Methionine, L-Histidine, L-Tryptophan
Coconut Water Fruit Powder 200mg **

* Percent Daily Values are based on a 2,000 calorie diet.

** Daily Value not established.

Other Ingredients: Natural And Artificial Flavors, Citric Acid, Malic Acid, Silicon Dioxide, Sucralose, Acesulfame Potassium, Sunflower Lecithin, Steviol Glycosides (Stevia).

CONTAINS: TREE NUTS (COCONUT)