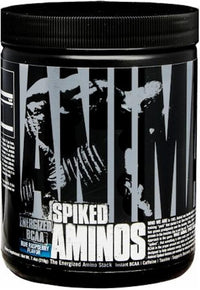 Universal Animal Spiked Aminos 30 servings
Universal Animal Spiked Aminos 30 servings
Animal's newest product, Spiked Aminos, uses the highest quality free form and instantized BCAAs and EAAs. This perfectly balanced ratio of amino is more readily absorbed and utilized than regular, conventional amino.
You can use Animal Spiked Aminos any time during the day when you need a boost. As a training supplement, Animal Spiked Aminos can help before the workout (energy/focus), during the workout (performance/ergogenic), and even after the workout (recovery). Using Animal Spiked Aminos may help support optimal exercise performance, hydration, and immune health.
Supplement Facts
30 Servings 
Serving Size: 1 Scoop
Servings Per Container: 30
Amount Per Serving Amt %DV
Amino Blend with Sustamine™5000mg†
[Instant BCAA (L-Leucine, L-Isoleucine, L-Valine), L-Taurine, Citrulline Malate, L-Glutamine, L-Lysine HCI, L-Arginine HCI, DL-Methionine, L-Phenylalanine, L-Threonine, L-Histidine, L-Carnitine Tartrate, Betaine, L-Alanyl-L-Glutamine]
Spiked Energy Blend160mg†
[Caffeine Anhydrous (125mg), Coffee Bean Extract, Green Tea Leaf Extract]

* % Daily Value is based on a 2,000 calorie diet. Your daily values may be higher or lower based on your calorie needs.

† Daily Value (DV) not established.
Other Ingredients: Citric acid, malic acid, natural and artificial blue raspberry flavor, sucralose, acesulfame potassium, FD&C blue #1.