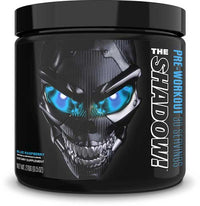 JNX Sports The Shadow 30 servings
JNX Sport The Shadow is marketed as a high-powered pre-workout supplement designed for individuals who engage in intense and hardcore workout sessions.
Let's break down some of the key components and claims mentioned:

Caffeine:  The Shadow contains a substantial amount of caffeine, 350mg per serving. Caffeine is a stimulant that may enhance alertness and reduce perceived effort during exercise, potentially improving performance.

Beta Alanine: At 2000mg per serving, Beta Alanine is included. This is an amino acid that is claims to help buffer lactic acid build-up in muscles during exercise, potentially delaying fatigue and allowing for longer and more intense workouts.

Energy and Intensity:  The Shadow claims to deliver unsurpassed energy and hypnotic intensity. This could be attributed to the combination of caffeine and other ingredients that aim to boost energy levels and mental focus.

Strength:  The Shadow is also claimed to provide hard-hitting strength. This might be associated with the increased energy levels and the potential improvement in endurance provided by beta-alanine.

Taste: The Shadow emphasizes its taste, claiming it to be "epic AF," which suggests that taste is considered a crucial factor for consumer satisfaction.

It's important for individuals considering such supplements to be aware of their own tolerance to caffeine and other ingredients, as excessive consumption can lead to negative side effects such as jitteriness, increased heart rate, and difficulty sleeping.
Supplement Facts
Serving Size 1 Scoop
Servings Per Container 30
Amount Per Serving
% Daily Value*
Vitamin B12 (as Methylcobalamin) 8 mcg333%
Vitamin B6 (as Pyrdoxine Hydrochloride) 0.5 mg29%
Muscle Power Matrix 3750 mg
Muscle Pump Fusion 2600 mg
Folate (225mcg Folic Acid) 425 mcg106%
Mental Focus Mind Lock 855 mg
Muscle Power Matrix
(Beta Alanine 2,000 mg, Taurine1,000 mg, L-Leucine 750 mg)
Muscle Pump Fusion
(L-Citrulline 2,000 mg, Betaine Anhydrous 600 mg)
Mental Focus Mind Lock
(L-Tyrosine 500 mg, Caffeine Anhydrous 350 mg, Olive Leaf Extract (40% Oleuropein) 5 mg)
† Daily Value (DV) not established.
Other Ingredients:
Natural and Artificial Flavor, Citric Acid, Malic Acid, Silicon Dioxide, Sucralose, Calcium Silicate, Acesulfame Potassium, FD&C Blue #1.
Produced on equipment that also processes peanuts, tree nuts, milk, egg, wheat, shellfish, fish, soy.