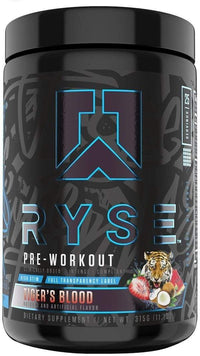 Ryse Supplements Black Pre-Workout 25 servings
Ryse Supplements Black Pre-Workout 25 servings
Pump. Energy. Strength. Try the intense new Project: Blackout line from RYSE. A hi-stim, fully transparent pre-workout that's nothing like you've experienced before.

A solid Pre-Workout is vital to optimizing your daily gains. With the perfect blend of studied and tested ingredients, you can achieve peak performance and efficiency in the gym; allowing you to train with enhanced pump, energy, and strength.

Premium Ingredients
Caffeine 350mg
Carnosyn Beta Alanine 3.2gms
NO3-T Nitrates 1.5gms
There's NO reason for going into a workout without the proper fuel to maximize performance. If you're tired of not getting the results you want or "running out of steam" mid-workout, RYSE Pre-Workout is the perfect solution.
Supplement Facts
Serving Size: 1 Scoop
Servings Per Container: 25
Choline 600mg
Calcium 90mg
Phosphorus 45mg
Sodium 310mg
Potassium 75mg
Beta Alanine (As CarnosSyn) 3.2g
Choline Bitartrate (As VitaCholine) 1.5g
Betaine Anhydrous 1.5g
Betaine Nitrate (As NO3-T) 1g
Sodium Nitrate (As NO3-T) 500mg
Calcium Potassium Phosphate Citrate (As Calci-K) 500mg
Caffeine Anhydrous 350mg
Theobromine 200mg
Sustained Release Caffeine 100mg
Huperzia Serrata Extract 10mg

Other Ingredients: Malic Acid, Sodium Bicarbonate, Silica, Natural And Artificial Flavor, Sodium Gluconate, Sucralose, Acesulfame Potassium.