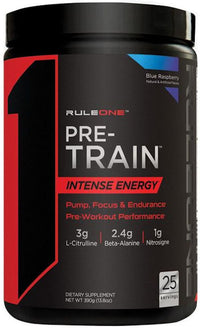 Rule One Pre Train 
High-Intensity Pre-Workout
The next generation of R1 Pre Train has arrived – and it's more powerful than ever. Get pumped for Nitrosigine, Citrulline, and Agmatine, Jacked by Infinergy, Theobromine, and TeaCrine, and keep the party going longer with CarnoSyn and Betaine. You'll be hard-pressed to find more stacked pre-workout than this. With full panel transparency, it's easy to compare for yourself.
Formula Transparency
ZERO Banned Substances

ZERO Fillers

ZERO Creatine

ZERO Added Sugar
Supplement Facts
Serving Size: 1 Scoop
Servings Per Container: 25
Amount Per Serving Amt %DV
Calories 5
Total Carbohydrate 1g 1%
Vitamin C (as Ascorbix Acid) 150mg 250%
Vitamin B6 (as Pyridoxine) 3mg 150%
Vitamin B12 (as Cynocobalamin) 35mcg 583%
Sodium 80mg 3%
Potassium (as Potassium Citrate) 65mg 2%
Performance Blend 11.4gms
L-Citrulline 3g †
Beta-Alanine (carnosyn®) 2.4g †
Betaine Anhydrous 2g †
Inositol Stabilized Arginine Silicate (Nitrosigine) 1g †
Taurine 1g †
N-Acetyl L-Tyrosine 600mg †
Agmatine Sulfate 500mg †
Choline Bitartrate 500mg †
Caffeine Anhydrous 200mg †
Di-Caffeine Malate (Infinergy) 100mg †
Theobromine 50mg †
Theacrine (as TeaCrine) 50mg †

* % Daily Value is based on a 2,000 calorie diet. Your daily values may be higher or lower based on your calorie needs.

† Daily Value (DV) not established.

Other Ingredients: Natural & Artificial Flavor, Citric Acid, Silicon Dioxide, Calcium Silicate, Salt, Potassium Citrate, Sucralose, Malic Acid, Sunflower Lecithin, Acesulfame Potassium.