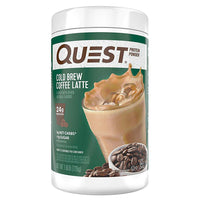 Quest Protein Powder 2 lbs
Quest Protein Powder 2 lbs

Great for Shakes, Baking, & Cooking

22g Protein Per Scoop

50% Whey Isolate

40% Micellar Casein

10% Milk Protein Isolate

No Soy

No Added Sugar

Less Than 1g Sugar Per Serving

Gluten-Free

Bakes Well
♦ Taste Reimagined. Quest flavored Protein Powder is a tasty, decadent blend. Even when it's simply mixed with water. We've transformed high-quality protein into impossibly delicious flavors that are distinctly Quest. But we didn't stop there.

♦ Cheat Day, every day. Quest Protein Powder is a groundbreaking cooking companion for our favorite #CheatClean recipes. Ditch the junk for this perfect ingredient swap into a protein-rich treat.

♦ Protein Per Calorie. We believe the greatest measure of a protein powder is its protein-to-calories percentage. The higher, the better. Quest Protein Powder has one of the highest percentages of any protein because we don't add any junk. It's just amazing taste and excellent nutrition.
Supplement Facts
Serving Size: 1 Scoop
Servings Per Container: 29
Container Size: 2 lbs
Amount Per Serving:
Calories: 110
Calories from Fat: 0
Total Fat: 0g 0%
Saturated Fat: 0g
Trans fat: 0g
Cholesterol: 15mg 6%
Potassium: 90mg 2%
Sodium: 170mg 8%
Total Carbohydrate: 5g 1%
Dietary Fiber: 4g 16%
Sugars: 1g
Protein: 22g 44%
Vitamin A: 0%
Vitamin C: 0%
Calcium: 35%
Iron: 4%
Phosphorus: 20%
Magnesium : 6%
Other Ingredients: Protein Blend (Whey Protein Isolate, Micellar Casein, Milk Protein Isolate) Cocoa, Natural Flavors, Contains less than 2% of the following:
Sunflower Lecithin, Xanthan Gum, Cellulose Gum, Steviol Glycosides (Stevia), Salt, Sucralose