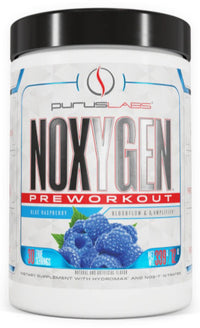 Purus Labs NOXYGEN Pre-Workout
Purus Labs NOXYGEN Pre-Workout
NOXYGEN PREWORKOUT BLOODFLOW & 02 AMPLIFIER

EVERYTHING YOUR PRE WORKOUT LACKS
Along with the NO3-T Betaine Nitrate and efficaciously-dosed HydroMax powdered glycerol that are cornerstones of the standard NOXygen product, we've built upon that foundation with full doses of beta-alanine, Vitacholine natural choline bitartrate, and a unique blend of caffeine anhydrous and ZümXR extended-release caffeine for smooth, sustained energy release. Rounded out by L-tyrosine and Huperzia Serrata for focus and Pink Himalayan sea salt for hydration, Purus Labs' new NOXygen Pump Pre Workout is the most advanced and tested formula worthy of its namesake. 
Supplement Facts
Serving Size 1 Scoop
Servings Per Container 30
Amount Per Serving % Daily Value*
Calories 10
Total Carbohydrates 2gm 1%
Choline 300 mg 50%
Sodium 160 mg 7%
Beta-Alanine 3200 mg *
Glycerol Powder (std. min. 50% glycerol)(as Hydromax EZ Flow) 1500 mg *
Citrulline Nitrate (as NO3-T) 1000 mg *
Betaine Nitrate (as NO3-T) 1000 mg *
Choline L(+) Bitartrate (as VitaCholine) 750 mg *
L-Tyrosine 500 mg *
Caffeine Anhydrous 200 mg *
zumXR Extended Release Caffeine (std. min.70% caffeine) 67 mg *
Huperzia serrata Extract (std. min. 1% huperzine A)(club moss) 10 mg *

Other Ingredients: Malic Acid, Silica, Natural and Artificial Flavor, Sodium Bicarbonate, Pink Himalayan Sea Salt, Sucralose, Acesulfame Potassium.