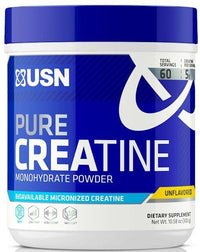 USN Pure Creatine 60 servings
USN Pure Creatine 60 servings
USN Pure Creatine is a micronized powder that provides the purest, most readily absorbed creatine monohydrate available.

5g Creatine – per serving
Micronized creatine monohydrate for optimal absorption
Unflavored.
Supplement Facts
300g Unflavored
Serving Size: 1 Scoop (5g)
Servings Per Container: 60 Servings
Amount Per Serving Amt %DV
Creatine Monohydrate 5g†

* % Daily Value is based on a 2,000 calorie diet. Your daily values may be higher or lower based on your calorie needs.

† Daily Value (DV) not established.

Other Ingredients: Pure Creatine Monohydrate