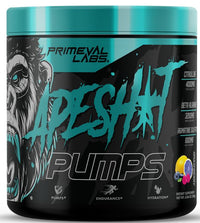 Primeval Labs Ape Sh*t Pump
Primeval Labs Ape Sh*t Pump
Pre-workout stimulant-free
Ape Sh*t Pump is a pre-workout built to increase and enhance muscle pumps, although it also has a couple of ingredients to support performance and endurance. With five ingredients 4g of pure citrulline, a gram each of agmatine and taurine, 3.2g of beta-alanine, and 300mg of pomegranate.
Supplement Facts
Serving Size 1 Scoop

Servings Per Container 40
Amount Per Serving % Daily Value*
L-Taurine 500 mg *
L-Citrulline 2000 mg *
Beta-Alanine 1600 mg *
Agmatine Sulfate 500 mg *
Pomegranate Extract (punica granatun) (hull) 150 mg *

Other Ingredients: Citric Acid, Natural Flavors, Silicon Dioxide, Sucralose, Yellow #5, Yellow #6.