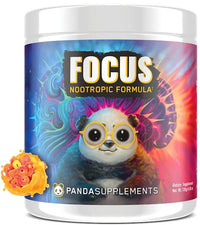 Panda Supplements Focus Nootropic
Panda Supplements Focus Nootropic 30 servings

PANDA FOCUS is the most effective nootropic supplement on the market,
Most versatile brain fuel product, designed for anyone looking to increase their focus, productivity, energy, mood & vision. Panda Focus can be used as an energy drink replacement, coffee or to spark motivation. 
Panda Focus enables you to unlock your full potential and gives you a competitive advantage no matter if you're a Student, Professional Athlete, CEO or GAMER. 
Supplement Facts
Serving Size: 1 Scoop approximate (4.4g)
Servings per Container: 30
Amount Per Serving %DV*
Vitamin B6 (from Pyridoxine HCI) 2.8mg 165%
Vitamin B3 (as niacin) 25mg NE 156%
Vitamin B12 (as Methylcobalamin) 164mcg 6,875 %
L-Tyrosine 1,000mg **
Alpha-glyceryl phosphoryl choline 500mg **
Lion's Mane Mushroom Powder (Hericium erinaceaus)(fruit body) 300mg **
Coleus Forskohlii Extract )10% Forskolin)(root) 300mg *
Caffeine Anhydrous 150mg **
Mucuna Pruriens Extract (98% L-Dopa)(seed)150mg *
L-Theanine 150mg **
Dicaffeine Malate (Infinergy) 100mg *
Artichoke Extract (Cynara scolymus) leaf 100mg **
Phosphatidylserine 70% 50mg*
AstraGin (Astragalus membranaceus and Panax notoginseng Extract) 25mg **
Toothed Clubmoss (Huperzia serrate)(aerial parts) (standardized to 1% Huperzine A) 15mg *
*Percent Daily Value based on a 2,000 calorie diet
**%Daily Value (DV) not established

Other Ingredients: Natural Flavors, Citric Acid, Silicon Dioxide, Sucralose, Acesulfame Potassium