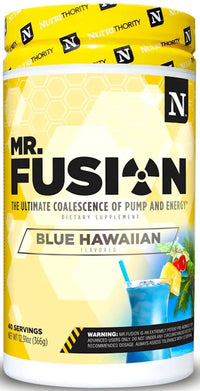 Nutrithority Mr. Fusion Pre-Workout
Nutrithority Mr. Fusion Pre-Workout seems to be a product designed to enhance energy, performance, and focus during workouts without causing the jittery or anxious feelings often associated with high-stimulant pre-workout supplements.
Here's a breakdown of its key features and benefits based on the provided information:

Energy and Performance Enhancement: Mr. Fusion Pre-Workout is intended for individuals looking to improve their energy levels and workout performance. It is designed to help you feel more focused and energized during your workouts.

Muscular Performance: Mr. Fusion claims to maximize muscular performance, increase strength, and boost endurance. This can be particularly beneficial for those seeking to push their physical limits during their training sessions.

Clean Energy: Unlike some other pre-workout supplements that may contain high doses of caffeine and stimulants, Mr. Fusion offers a clean energy source. This suggests that it might not lead to the jittery or anxious sensations often associated with strong stimulants.

Maximized Pump: A "pump" typically refers to the temporary increase in muscle size and vascularity during and after a workout. Mr. Fusion Pre-Workout claims to help maximize the pump effect, which can be desirable for bodybuilders and weightlifters.

Moderate Caffeine and Stimulants: Mr. Fusion seems to contain a lower amount of caffeine and stimulants compared to some other pre-workout supplements. This is likely responsible for the absence of jittery or anxious feelings, making it suitable for those who are sensitive to stimulants.

If you're considering using Mr. Fusion Pre-Workout, it's essential to read the product's label and instructions carefully to understand the specific ingredients and dosages.


Supplement Facts
Serving Size 1 Scoop (9.15g)
Servings Per Container 40
Amount Per Serving %DV
Calories 5
Total Carbohydrate 1g <1%
Vitamin C (as Asorbic Acid) 250mg *
Calcium (as Calcium Citrate & Calcium Silicate) 122mg 12%
Magnesium (as Magnesium Oxide) 60mg 15%
Sodium (from Sodium Chloride) 39mg 2%
Citrulline Malate 2:1 4000mg *
Betaine Anhydrous 1250mg *
Beta-Alanine 800mg *
Nitrosigine (Inositol-stabilized arginine silicate) 750mg *
L-Tyrosine 375mg *
Choline Bitartrate 375mg *
L-Norvaline 125mg *
L-Theanine 100mg *
Caffeine Anhydrous 100mg *
Caffeine Citrate 25mg *
Infinergy Di-caffeine Malate 25mg

Other Ingredients: Natural & Artificial Flavors, Silicon Dioxide, Calcium Silicate, Sodium Citrate Sucralose, Acesulfame Potassium, FD&C Blue #1