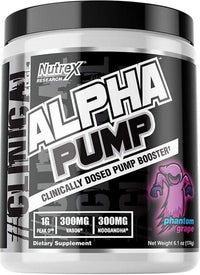 Nutrex Alpha Pump 20 servings CLEARANCE
Nutrex Alpha Pump 20 servings
ALPHA PUMP is the ultimate pump & performance booster. If you are looking for a superhuman pump, ALPHA PUMP is your ticket. Just mix up 1 scoop in water 30 minutes before you hit the gym and ready yourself for an awesome experience. 
STIMULANT-FREE (CAN BE STACKED WITH ANY PRE-WORKOUT)

ALPHA PUMP can be stacked with any pre-workout product of your choice if you like to double down and add some stimulant energy. If you truly want to take it above and beyond, try stacking one scoop of ALPHA PUMP with one scoop of OUTLIFT. In this case, we advise you to take it 45 minutes before working out to allow additional time for the extra ingredients to make it into your bloodstream. ALPHA PUMP also stacks well with BCAAs and EAAs if you like to take these before training.
While the best time to take ALPHA PUMP is before working out, it can also be consumed on non-training days as daily use will help to further improve its' overall effectiveness.
Supplement Facts
Serving Size: 1 Scoop
Servings Per Container: 20
Potassium 530mg
Sodium 110mg
Cordyceps militaris (Cordyceps) 1g
Ganoderma lucidum (Reishi), Pleurotus eryngii (King Trumpet), Lentinula edodes (Shitake), Hericium erinaceus (Lion's Mane), and Trametes vericolor (Turkey Tail) (as Peak02)
GlycerSize Glycerol Powder (65%) 1g
NooGandha (Organic ashwagandha root extract) 300mg
Green Tea Extract (leaf) (as VASO6) 300mg
S7 50mg
(Green Coffee Bean Extract, Green Tea Extract, Turmeric Extract, Tart Cherry, Blueberry, Broccoli, Kale)

*Daily Value is based on a 2,000 calorie diet. Your daily values may be higher or lower based on your calorie needs.

Other Ingredients: Citric Acid, Potassium Bicarbonate, Natural and Artificial Flavors, Malic Acid, Silicon Dioxide, Sodium Bicarbonate, Sucralose, Tartaric Acid, Acesulfame Potassium, Blue #1.