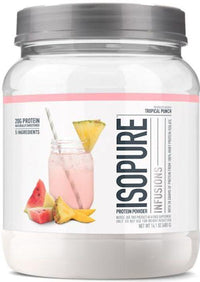 Nature's Best Isopure Infusions Protein Powder
Nature's Best Isopure Infusions Protein Powder with 20 grams of protein from 100% whey protein isolate
ISOPURE INFUSIONS is not your typical milkshake-like protein powder. It is a refreshingly light fruit-flavored experience that delivers the protein you want without all the unnecessary ingredients you don't. Give ISOPURE INFUSIONS a vigorous shake and watch 20 grams of 100% whey protein isolate infuse into a colorfully translucent, refreshing drink right before your eyes. And what you see is what you get: 5 ingredients, no fat or added sugars** and only 90 calories** per scoop. No artificial flavors or colors and sweetened only with stevia leaf extract. Simple, powerful, and delicious.
Gluten and Lactose-Free
No artificial colors, flavors, sweeteners
No fat / No added sugars
PROTEIN PURITY- TASTE THE DIFFERENCE.
Supplement Facts
Serving Size 1 Scoop
Servings Per Container 16
Amount Per Serving
% Daily Value*
Calories 90-
Total Fat 0 g 0%
Cholesterol 10 mg 3%
Sodium 15 mg 1%
Total Carbohydrate 2 g 1%
Protein 20 g 40%
Total Sugars 2 g-
Other Ingredients
Whey protein isolate, natural flavor, citric acid, stevia leaf extract, fruit and vegetable juice (color).
Contains Milk. May contain soy.