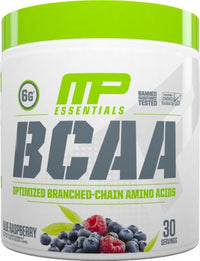 MusclePharm BCAA Essentials 30 servings
MusclePharm BCAA Essentials offers a unique patent-pending ratio—3 Leucine, 1 Isoleucine, 2 Valine—that is specifically tuned to deliver the ideal amounts of these three amino acids.
Supplement Facts
Serving Size: 7.5 g (1 scoop)
Servings Per Container: 30
Amount Per Serving % DV *
L-Leucine 3 g †
L-Valine 2 g †
L-Isoleucine 1 g †

* % Daily Value is based on a 2,000 calorie diet. Your daily values may be higher or lower based on your calorie needs.
† Daily Value (DV) not established.
Other Ingredients: Malic Acid, Artificial Flavor, Sucralose, Soy Lecithin, Beet Juice Powder.
Allergen Warning
This product contains soy. This product was produced in a facility that may also process ingredients containing milk, egg, soybeans, shellfish, fish, tree nuts, and peanuts.