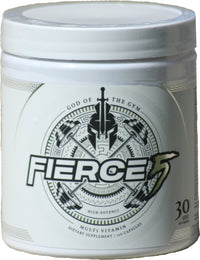 Gym God Fierce 5 Men's Multivitamin
Gym God Fierce 5 Men's Multivitamin 150 Tabs
Formerly Modern Hardcore Nutrition (MHN) 
Fierce 5 is the most complete, high-potency men's multivitamin / multi-mineral on the market.*

Containing over 60 bioactive ingredients across six functional complexes, FIERCE 5 is the advanced micronutrient stack men need to reach their full potential!*

30-day supply*
Premium-quality vitamins and minerals*
Prostate health support*
Hormone optimization support*
Antioxidant and host defense system support*
Hard-training athletes push the extremes on a weekly, if not daily basis, demanding the utmost performance from their minds and body.*

Over time, these excessive demands can result in nutrient deficiencies that can undermine performance, hamper recovery, and grind progress to a halt.*
A well-rounded diet rich in fruits, veggies, whole grains, lean proteins, and healthy fats is your first line of defense against the increased nutrient demands of rigorous training, but even the best athletes still develop gaps in their nutrition profile.*

Don't let this happen to you.*
Give yourself every chance to progress, grow, and dominate the competition by supplementing with the premier men's multi on the market -- FIERCE 5! 
Supplement Facts
Serving Size: 5 Tablets
Servings Per Container: 30
Amount Per Serving %DV*
Vitamin A (as Mixed Carotenoids) 4000mcg 444%
Vitamin C (Ascorbic Acid) 200mg 222%
Vitamin D (as Cholecalciferol) 7.5mcg 38%
Vitamin E (as D-Alpa Tocopheryl Succinate) 134mg 893%
Thiamin B1 (as Thiamine HCI) 50mg 6,250%
Riboflavin B2 50mg 5,769%
Niacin B3 75 mg 469%
Vitamin B6 (as Pyridoxine HCI) 10mg 500%
Folic Acid (from Folate) 1000mcg 250%
Vitamin B12 (as Cyanocobalamin) 100mcg 4167%
Biotin 100mcg 333 %
Pantothenic Acid (as Calcium-D-Pantothenate) 50mg 1250 %
Choline (as Choline Bitartrate) 10mg 2%
Calcium (as Calcium Carbonate and Calcium Citrate) 200mg 15%
Iodine (from Kelp) 150mcg 100%
Magnesium (as Magnesium Oxide and Magnesium Aspartate) 100mg 24%
Zinc (as Zinc Methionine and Zinc Citrate) 38mg 345%
Selenium (as L-Selenomethionine) 200mcg 364%
Copper (as Copper Gluconate and Copper Bisglycinate Chelate) 3.7mg 411%
Manganese (as Manganese Gluconate) 5mg 217%
Chromium (as Niacin Bound Chromium Complex; ChromeMate) 120mcg 343%
Molybdenum (as Molybdenum Amino Acid Chelate) 80 Mcg 178%
Fierce Test Blend 592mg *
Fenugreek Seed Powder, Velvet Bean Seed Extract, Andrographis Herb Extract, Boron (as Boron Citrate).
Prostate Health / DHT Blocked Blend 292mg *
Saw Palmetto Fruit Powder, Damiana Leaf Powder, Asian Ginseng Root Powder, Pygeum Bark Powder, Ginko Leaf Powder, Stinging Nettle Root Powder, Pumpkin Seed Powder
Estrogen Eliminating Complex 200mg *
Diindolylmethane (SIM), Chrysin
Fruit / Vegetable Force Blend 225mg  *
Blueberry Fruit Powder, Citrus Bioflavonoids Peel Complex, Garlic Bulb Powder, Green Tea Leaf Powder, Grape Seed Extract, Cranberry Fruit Powder, Wild Yam Root Powder, Carrot Root Powder, Papaya Fruit Powder, Orange Fruit Powder, Pineapple Fruit Powder, Spinach Leaf Powder, Kale Powder, Broccoli Plant Powder, Apple Fruit Powder, Grapefruit Fruit Powder.
Vitality Blend 80mg *
Maca Root Powder, Chinese Dodder Seed Powder, Eleuthero Root Powder
Enzyme Complex 50mg *
Maltodextrin, Inulin, Papain, Bromelain, Amylase, Lipase
Dehydroepiandrosterone (DHEA) 25mg *
Alpha Lipoic Acid 25mg
Inositol 10mg
Lycopene 500mcg
Lutein 500mcg

*Daily Value (DV) not established

Other Ingredients: Malic Acid, Natural & Artificial Flavors, Citric Acid, Sucralfate, Acesulfame Potassium, Natural Colors