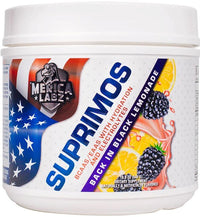 Merica Labz Suprimos 30 servings
Merica Labz Suprimos 30 servings
POST-WORKOUT - MERICA LABZ SUPRIMOS
If you're looking for a BCAA supplement that has an honest ingredient panel, look no further. Suprimos by Merica Labz is an amino acid supplement that has plenty of BCAAs & EAAs to make sure not a single one of your workouts goes to waste. 

Supplement Facts
Serving Size: 1 Scoop
Servings Per Container: 30
Potassium (From Potassium Chloride) (From Aquamin Sea Minerals) 100mg
Sodium (From Sodium Citrate) From Aquamin Sea Minerals) 100mg
Calcium (From Aquamin Sea Minerals) 170mg
Magnesium (From Magnesium Glycinate) 160mg
Branched Chain Amino Acids (BCAAs): L-Leucine 3500mg, L-Isoleucine 1750mg, L-Valine 1750mg, Other Essential Amino Acids (EAAs)
Other Ingredients: None.