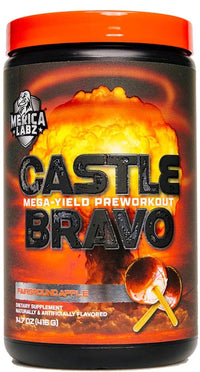 Merica Labz Castle Bravo pre-workout
Merica Labz Castle Bravo
In 1954, the U.S. military detonated its largest nuclear explosion ever, known by the code name Castle Bravo, by utilizing a unique mixture of fissile and fusile materials. Needless to say, it went well above and beyond its stated mission at 2.5x its expected yield. And in 2022, 'Merica Labz looks to take its lunch money, hit on its mom and spit in its cereal – utter domination. After all, that's the 'Merican way.

Castle Bravo is the pre-workout equivalent of mutually assured destruction and packed with enough stimulants to put the fear of God almighty into anyone that comes across you. As Oppenheimer once said, "come for I am death, the destroyer of the worlds." Drop a f$#*ing bomb on your next workout.