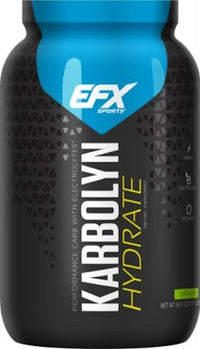 EFX Sports Karbolyn Hydrate
EFX Sports Karbolyn Hydrate 4lbs
Athletes need real fuel, not sugar, for sustained energy and endurance. Karbolyn Hydrate is sugar-free, yet it can power you through the most grueling workout, competition, or anything that requires extended energy at peak levels.
Sugar-Free High-Performance Sports Drink
Glycogen Fuel Source + Electrolytes
Gluten & Stimulant-Free
Invented By EFX Sports Scientist Dr. Jeff Golini
Informed Sport Certified, Banned-Substance Free
Supplement Facts
Serving Size 29 g (One Scoop)
Servings Per Container64
Amount Per Serving % Daily Value
Calories 110
Calories From Fat 0
Total Fat 0 g 0%
Saturated Fat 0 g 0%
Cholesterol 0 mg 0%
Sodium (as Sodium Phosphate) 15 mg 1%
Total Carbohydrates 27 g 9%**
Dietary Fiber 0 g 0%
Sugars 0 g †
Protein 0 g 0%
Phosphorus 47 mg 5%
(as Potassium Phosphate, Magnesium Phosphate, Sodium Phosphate)
Magnesium (as Magnesium Phosphate) 13 mg 3%
Potassium (as Potassium Phosphate) 44 mg 1%
Karbolyn 25 g †
(homopolysaccharide derived from potato, rice, and corn) 
** Percent Daily Values are based on a 2,000 calorie diet.
† Daily Value not established
Other Ingredients:
Citric Acid, Natural & Artificial Lemon Lime Flavors, and Sucralose.
Gluten-Free.