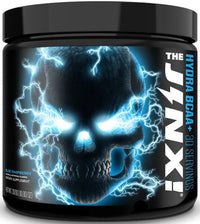 JNX Sports Jinx Hydra BCAA+
JNX Sports Hydra BCAA+ specifically emphasizes its features such as an advanced amino matrix for improved training and muscle recovery, and the inclusion of coconut water for natural electrolytes and hydration. Additionally, you mentioned that it's caffeine-free and comes in best-in-class flavors with all-natural colors.

This type of product appears to be a branched-chain amino acid (BCAA) supplement, which typically contains essential amino acids like leucine, isoleucine, and valine. BCAAs are commonly used by individuals engaged in physical activities, particularly those involved in resistance training or endurance exercises, to support muscle recovery and reduce muscle soreness.

The use of coconut water for hydration is a common practice in sports drinks and supplements due to its natural electrolyte content, which can help replenish electrolytes lost through sweat during physical activity.

The fact that it's caffeine-free makes it suitable for those who want to avoid stimulants or consume the product at any time of the day without concerns about sleep disruption.


Supplement Facts
Serving Size: 1 scoop (10.3 g)
Servings Per Container: 30
Amount Per Serving % DV
Calories 5
Total Carbohydrate 1 g < 1%*
Total Sugars 0 g
Vitamin C (as Ascorbic Acid) 450 mg 500%
Vitamin B6 (as Pyridoxine HCI) 3 mg 176%
Folate (as Folic Acid) 200 mcg DFE 50%
Vitamin B12 (as Methylcobalamin) 4 mcg 167%
Sodium (as Himalayan Rock Salt) 200 mg 9%
Potassium (as Potassium Chloride, Coconut Water Powder) 170 mg 4%
BCAA 2:1:1 (L-Leucine, L-Isoleucine, L-Valine) 5000 mg
Taurine 1000 mg
Coconut Water Powder 500 mg
Rose Hip Powder (Rosa canina) (hip) 25 mg
*Percent Daily Values (%DV) are based on a 2,000 calorie diet.
Daily Value (DV) not established