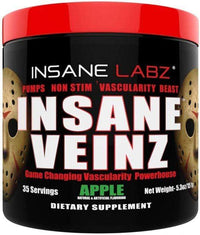 Insane Labz Insane Veinz 35 servings
Intense Non-Stimulant Pre Workout - Insane Labz Insane Veinz

Looking for something more? Maybe you want to boost up your workout? If you want to have a better performance in the gym this is the pre-workout for you. And because it is stimulant-free, you can stack it with Psychotic or even I Am God! 

Supplement Facts
Serving Size: 1 Scoop (2.8g)
Servings Per Container: 35
Chloride 200mg
Sodium 200mg
Insane Veinz Blend 2290mg
Agmatine sulfate (1250mg), betaine anhydrous, beet root extract, russina tarragon extract.
Other Ingredients: Silica, calcium silicate.