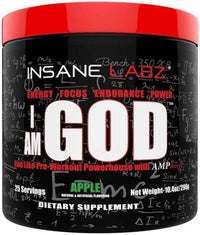 Insane Labz I Am God 25 servings
Insane Labz I Am God 25 servings

This Insane Labz Pre Workout is super intense and is only meant for people who have used stimulants before. 

Supplement Facts
Serving Size: 1 scoop
Servings Per Container: 25
Amount Per Serving: (% Daily Value*)
Vitamin C (as Ascorbic Acid): 200mg (333%)
Sodium (as Sodium Chloride): 100mg (4%)
Potassium (as Potassium Chloride): 100mg (3%)
I Am God Blend 9.3g
Creatine Monohydrate, Beta Alanine, L-Taurine, Caffeine Citrate, Caffeine Anhydrous, Betaine Anhydrous, Dimethylethanolamine, AMPiberry (Juniperus Communis)(Berry), Rauwolfia Vomitoria Extract (stfd. min. 90% alpha yohimbine)(root bark).
* Percent Daily Values are based on 2,000 calorie diet.
Other Ingredients: Citric Acid, Silica, Natural & Artificial Flavoring, Tartaric Acid, Calcium Silicate, Sucralose, FD&C Red #40.