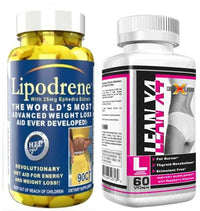 Hi-Tech Pharmaceuticals Lipodrene with Ephedra Plus FREE GenXLabs LeanX4
Hi-Tech Pharmaceuticals Lipodrene with Ephedra Plus FREE GenXLabs LeanX4 Fat Burner
Advanced Fat Burner & Weight Loss Aid 
Are you on the lookout for a supplement that will speed up your metabolism, increase your energy levels, and burn fat? Lipodrene from Hi-Tech Pharmaceuticals will do all of the above to help you get your dream body!

Lipodrene contains proven weight loss and energy-boosting ingredients such as ephedra extract, green tea extract, caffeine, and 2-Aminoisoheptane HCl (or DMHA as you may know it). These ingredients act synergistically with each other to boost your metabolism and energy, helping you have the energy and ability to burn more fat!

Lipodrene will help you burn fat in the most stubborn areas including the abs, hips, thighs, and buttocks. It is important to note that maintaining a proper diet and exercise program are essential requirements to successfully achieve desirable levels of body weight. But if you add a supplement into the mix, you can take average results to the next level!

Supplement Facts
Lipodrene Ingredients
Supplement Facts
Serving Size: 1 Tablet
Servings per Container: 90

Amount per Serving % Daily Value
Proprietary Blend with Thermo-Rx and Extend-Rx Technologies: 560mg*
Ephedra Extract 25mg (leaves), Senegalia Berlandieri Extract (leaves)[Yielding Phenylethylamine Alkaloids Including: Phenylethylamine, Methylsynephrine, N-Methyl-B-Phenylethlamine, N,N-Dimethylphenylethylamine], 2-Aminoisoheptane HCl, Synephrine HCl, Theobromine, Green Tea Extract (leaves), Citrus Aurantium Extract (fruit), Hoodia Extract (cactus), Cassia Nomame Extract (plant), Naringen (fruit), 6, 7 Dihydroxybergamotin (fruit), 5-Methoxytryptamine HCl, L-5-Hydrotryptophan, Yohimbine HCl.
Caffeine (Anhydrous) 100mg *

*Daily Value not established.

Other ingredients: Dextrose, Microcrystalline Cellulose, Hydroxypropyl Methylcellulose, Stearic Acid, Magnesium Stearate, Sodium Starch Glycolate, Starch, Triacetin, Titanium Dioxide, FD&C Yellow #5 Lake, Silica, FD&C Yellow #6 Lake.