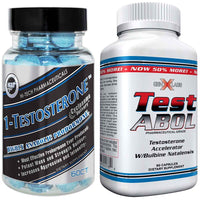 Hi-Tech Pharmaceuticals 1-Testosterone with FREE Testabol
Hi-Tech Pharmaceuticals 1-Testosterone
Hi-Tech came out with this compound as it is a naturally occurring metabolite. Now its properties are far different than regular testosterone in the body. That is why 1-Testosterone is considered mild by many. And because it is mild, you can expect cleaner gains, but with very dramatic strength. 
Supplement Facts 
Serving Size: 1 Tablet
Servings Per container: 60
1-Androstene-3b-Ol-17-One Decanoate 110mg 
6,7 Dihydroxybergamottin 50mg 

Other Ingredients: Microcrystalline Cellulose, Phosphatidylcholine 75%, Hydroxy Propyl BetaCyclodextrin (HPBCD), Phytosterols, Magnesium Stearate, Silica, FD&C Blue #2 FD&C Red #40. 
NOW with FREE Testabol
GenXLabs TestAbol 
TESTABOL - This all-natural, potent and effective supplement with bulbine natalensis, yohimbe bark, zinc, and milk thistle is designed for athletes with muscle growth and strenght in mind.   
TestABOL is perfect for any athlete, both men, and women who looking for extra performance.
TestABOL Supplement Facts
Serving Size: 1 Capsule
Servings per Container: 90
Amount Per Serving % DV
Vitamin D3 (Pyridoxine) 1,000 IU 250%
Testosterone Accelerator 325mg **
Bulbine Natalensis (10:1), Yohimbe Bark Extract (Pausinystalia Yohimba), Zinc, Milk Thistle (80% Silymarin)