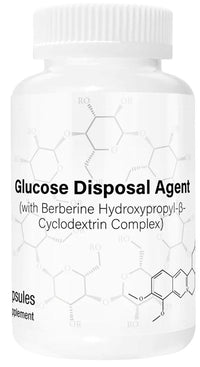 Gorilla Mind Glucose Disposal Agent
The Glucose Disposal Agent (GDA) is a supplement often used in the world of fitness and bodybuilding. Its primary purpose is to help manage blood glucose levels, improve insulin sensitivity, and enhance nutrient partitioning. Nutrient partitioning refers to how your body allocates the nutrients you consume, particularly carbohydrates, for various purposes like energy, storage, or muscle building.

Gorilla Mind Glucose Disposal Agent can be a useful tool for those who are already committed to a healthy lifestyle and want to further optimize their nutrient partitioning and insulin sensitivity, especially during situations where they might consume more carbohydrates than usual.
Supplement Facts
Serving Size 1 Capsule
Servings per container 120
1 Capsule
Amount per serving %DV
Berberine Hydroxypropyl-β-Cyclodextrin Complex 250mg †
Bitter Melon Extract 250mg †
(Momordica Charantia) (standardized to 10% bitters)
Gymnema Sylvestre Extract 150mg †
(standardized to 75% gymnemic acids)
Cinnulin PF 62.5mg †
(Cinnamon Bark Extract standardized to 3% type A polymers)
Sodium Caprate 25mg †
Vanadyl Sulfate Pentahydrate 5mg †
(yielding 1 mg of Vanadium)
† Daily Value Not Established
Other Ingredients: Gelatin (capsules), Silica, Magnesium Stearate