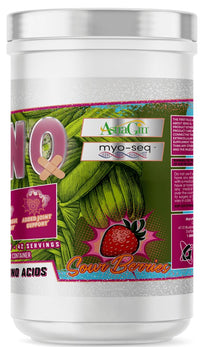 Glaxon Xeno 42 servings
Xeno Amino is a superior, premium amino acid product containing an unbelievable 20 amino acids including all Branched Chain Amino Acids and Essential Amino Acids. Our Myo-Seq trademarked blend is a science-based amino acid ratio that offers support for muscle protein synthesis, exercise-induced fatigue, preventing muscle wasting or breakdown, and improves repair and recovery. Also includes Hyaluronic Acid for added joint support, as well as Taurine and Electrolytes to promote intra-cellular muscle hydration. 
Supplement Facts
Serving Size: 1/2 Scoop
Servings Per Container: 42
Magnesium (as Magnesium Gluconate) 15mg
Potassium as (Potassium Gluconate) 34mg
MyoSeq 3500mg
(Leucine, Glutamic Acid, Lysine, Isoleucine, Threonine, Arginine, Aspartic Acid, Alanine, Valine, Tyrosine, Phenylalanine, Serine, Methionine, Glutamine, Glycine, Proline, Asparagine, HIstidine, Tryptophan, Cysteine)
Hydrolyzed Bovine Collagen (Types I & III) 1000mg
Taurine 500mg
Hyaluronic Acid 45mg
AstraGin 12.5mg
Other Ingredients: Maltodextrin, Citric Acid, Sucralose, Natural Flavors, Acesulfame Potassium, Calcium Silicate.