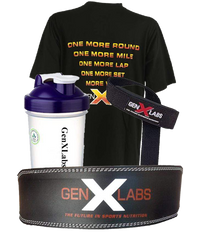 GenXLabs Weight Training Deal with FREE T-Shirt
GenXLabs Weight Training Deal
LIFTING BELT 
100% Genuine Leather 
Padded Back and Soft Suede Lining 
Leather and leather board multi-ply design. Contoured design for added comfort. Double prong buckle. Strong border stitching. Extra Suede Padded for support

Top-quality 1/4" leather
Sturdy double-stitched edges
Double-prong roller buckle
Durable loops to secure the belt tab
Soft Suede Padded Lining
 HEAVY-DUTY PADDED LIFTING STRAPS 
100% Heavy Duty Canvas Padded Lifting Straps
For Heavy Duty Training! Tough Stuff!
BLACK Weight Lifting Straps with Extra Neoprene-Padded Wrist - PAIR

100% heavy-duty cotton with comfortable extra-thick neoprene padding

Extra length and width for improved gripping
TEE-SHIRT
Black, super heavyweight 65% cotton and 35% Polyester t-shirt with the classic words "One More with GenXLabs" logo on the front and the One More Round, One More Mile, One More Lap, one More Set logo on the back. BLACK
SHAKER BOTTLE
Tired of sifting lumps through your teeth?
There's a better way. The patented Blender Bottle is the best-selling portable mixer simply because it works. No batteries, no cord, no hassle. It's powerful enough to mix the thickest ingredients with ease. Use it in the kitchen, at the office, at the gym, when you travel, or on the go.
Featuring the BlenderBall wire whisk and unique Twist n' Lock™ containers, the BlenderBottle  is the all-in-one solution for the serious athlete.

BlenderBottle shaker cups are the only bottles with the patented BlenderBall wire whisk.