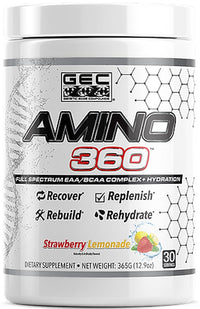 GEC AMINO 360 gives you 360 degrees of coverage when it comes to essential amino acids. A complete EAA/BCAA profile with the added benefit of glutamine and coconut water for boosted recovery and hydration, Genetic Edge Compounds AMINO 360 gives you one of the best staples to support muscle recovery and protein synthesis.
Serving Size: 1 Scoop (12.18 gm)
Servings Per Container: 30
Amount per serving %DV
L-Leucine 3000mg*
L-Glutamine 2000mg *
L-Isoleucine 1500mg *
L-Valine 1500mg *
L-Lysine 500mg *
L-Threonine 500mg
L-Phenylalanine 500mg 8
Coconut Water Power 500mg *
L-Histidine 100mg *
L-Methionine 100mg *
L-Tryptophan 100mg *
Astragin (astragalus membranaceous)(root) & Panax notoginseng (root) 25mg*

Other Ingredients: Citric Acid, Natural and Artificial Flavors, Silicon Dioxide, Sucralose, Acesulfame Potassium.