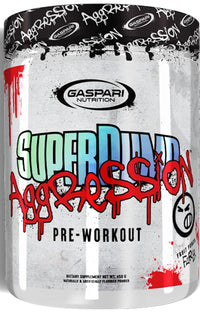 Gaspari Nutrition SuperPump Aggression
Gaspari Nutrition Super PumpAggression
Pre-workout powder feature advanced technology and next-generation compounds
In order to generate intensity you need to focus and you need to get aggressive. Chabbeled aggression =power.  Do you want to get strong? Do you want to radically increase performance? Do you want to break records? Then you have to hit the iron like you're pissed off at it. You have to get intense. You have to get aggressive. You have to get new SuperPump Aggression. 
Euphoric Energy
Laser Focus
Skin tearing pumps
No Crash or jitters
Supplement Facts
25 Servings 
Serving Size: 1 Scoop
Servings Per Container: 25
Amount Per Serving Amt %DV
Choline 40mg 7%
L-Citrulline 4,000mg†
Beta-Alanine 3,200mg†
Betaine Anhydrous 2,000mg†
Agmatine Sulfate 1500mg†
L-Tyrosine 1500mg†
Caffeine Anhydrous 400mg†
N-Palmitoylethanolamide300mg†
Theobromine 200mg†
Choline Bitartrate 100mg†
DMAE (Dimethylaminoethanol Bitartrate) 100mg†
Black Pepper Extract (std. min. 95% Piperine) (as BioPerine) 5mg†
Rauwolfia Vomitoria Extract (std. min. 90% Ruawolscine) (Whole Herb)3mg†
Huperzia serrata Extract (std. min. 1% Huperzine A) (Club Moss) 2mg†
* % Daily Value is based on a 2,000 calorie diet. Your daily values may be higher or lower based on your calorie needs.
† Daily Value (DV) not established.
Ingredients
Malic Acid, Natural and Artificial Flavor, Silica, Calcium Silicate, Sucralose, Acesulfame Potassium.