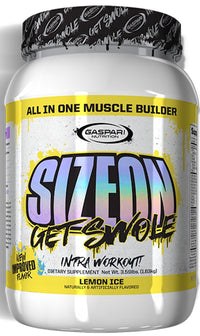 Gaspari Nutrition SizeOn Get Swole 3.59 lbs
Gaspari Nutrition SizeOn Get Swole 3.59 lbs
Gaspari Nutrition has formulated a product that will literally put Size On your body. With its top-of-the-line research-driven formula, SizeOn stimulates lean muscle synthesis due to the potent combination of creatine and high-quality whey hydrolysates.
The whey hydrolysate includes over 50% di and tripeptides as well as a large array of pro-anabolic promoting components such as a high dose of L-LEUCINE (4 grams) to allow for unequaled support in athletic performance, skeletal muscle recuperation, explosiveness, and most particularly, nearly instant increases in muscle size.
SizeOn Get Swole promotes both muscle growth and muscle recovery to get you functioning at the highest performance levels.
Supplement Facts
24 Servings 
Serving Size: 1 Scoop (66g)
Servings Per Container: 24 Servings
Amount Per ServingAmt%DV
Calories  190
Calories From Fat  0
Total Fat  0g 0%
Saturated Fat 0g 0%
Trans Fat  0g*
Cholesterol  15mg 5%
Total Carbohydrate  40g 13%
Dietary Fiber 0g 0%
Sugars (From Trehalose and Dextrose) 39g*
Protein  7g  14%
Vitamin C (As Ascorbic Acid)  60mg  100%
Thiamin (As Thiamin Hydrochloride)  10mg  667%
Riboflavin (As Riboflavin-5-Phosphate)  7.6mg  447%
Niacin (As Niacinamide)  50mg  250%
Folate (As Folic Acid)  200mcg 50%
Vitamin B12 (As Methylcobalamin)  75mcg  1,250%
Pantothenic Acid (As D-Calcium Pantothenate)  9mg 92%
Calcium  51mg  5%
Phosphorus  65mg 7%
Magnesium  45mg 11%
Sodium  235mg  10%

SizeOn Proprietary Blend  63g
Trehalose, Dextrose, Cyclic Dextrin, Pterostilbene *
Protein Synthesis Acceleration Matrix
Whey Protein Hydrolysate, L-Leucine (4g), L-Isoleucine, L-Valine
PhosphoDrive Endurance Complex
Creatine Monohydrate, Creatine MagnaPower (Magnesium Creatine Chelate), Disodium Creatine Phosphate *
OsmoDrive Advanced Hydration Complex
L-Taurine, Sodium Glycerophosphate, Calcium Glycerophosphate, Potassium Glycerophosphate, L-Alanyl-L-Glutamine, Magnesium Glycyl Glutamine
Other Ingredients:
Malic acid, citric acid, silica, natural and artificial grape flavor, salt, purple potato powder (color), acesulfame potassium, sucralose.