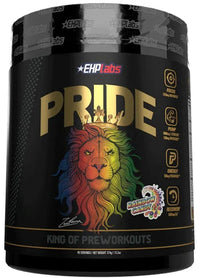 EHPLabs Pride Pre-Workout
EHPLabs PRIDE Pre-workout supplements designed to provide an energy boost, improve focus, and enhance performance during workouts. They typically contain a blend of ingredients that may include caffeine, amino acids, vitamins, and other compounds to help users achieve their fitness goals.

EHPLabs is a well-known supplement manufacturer that offers a range of products targeted at fitness enthusiasts. PRIDE, is one of their pre-workout supplements. To assess the quality and effectiveness of this product, you should consider factors such as its ingredient list, dosage recommendations, user reviews, and any potential side effects or warnings.

It's important to remember that individual responses to pre-workout supplements can vary, and what works well for one person may not be the best choice for another.

Additionally, always follow the recommended dosage and safety guidelines provided on the product's label.

Supplement Facts
Amount Per Serving Pride (40 serves)
1 Scoop (9.35g)
Calories 5
Total Carbohydrates 1g >1%
Skin Splitting OFF The Bone PUMPS 3750mg *
L-Citrulline 2500mg *
Nitrosigine (Inositole-Stabilized Arginine Silicate) 750mg *
Betaine Anhydrous 500mg *
Performance EAA Blend 2500mg *
iBCAA Leucine 1000mg *
iBCAA Isoleucine 500mg *
iBCAA Valine 500mg *
L-Phenylalaline 175mg *
L-Threonine 125mg *
L-Lycine HCI 100mg *
L-Histidine 50mg *
L-Methionine 25mg *
L-Tryptophan 25mg *
Pentaffeine 5-Stage Energy Release 275mg *
Caffeine Anhydrous 100mg *
Infinergy (Di-Caffeine Malate) 50mg *
Green Coffee Extract 25mg *
Innova Tea (Green Tea Extract (Caffeine)) 25mg *
Yerba Mate 25mg *
Natural Bitter Orange Extract (30%) 50mg *
Super Nootropic Focus Blend 825mg *
L-Tyrosine 500mg *
Taurine 250mg *
SerinAid (Phosphatidylserine 20%) 50mg *
Theobromine (99%) 25mg *
* Percent daily value are based on a 2,000 calorie diet.

Other Ingredients: Citric Acid, Natural Flavors, Malic Acid, Sodium Citrate, Sucralose, Calcium Silicate, Silicon Dioxide, Vegetable Juice (Color), beta-carotene (Color).