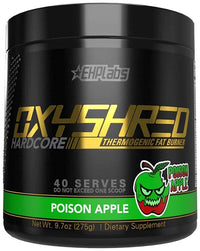 EHPLabs OxyShred Hardcore
EHPLabs OxyShred Hardcore is a dietary supplement designed to help individuals with their fitness and weight loss goals. It is marketed as a more potent and intense version of the original OxyShred, which is a popular thermogenic fat burner and pre-workout supplement. OxyShred Hardcore is intended for those who are looking for an extra kick in their workouts and fat-burning efforts.
Supplement Facts
Oxyshred Hardcore (40 Serves)
Amount / serving 1 Scoop (6.2g)
Calories 10
Total Carbohydrates 2g 1%
Dietary Fiber 1g 4%
Vitamin C (as Ascorbic Acid) 248mg 275%
Thiamin (as Thiamine Mononitrate) 0.56mg 46%
Riboflavin 0.78mg 60%
Niacin (as Niacinamide) 20mg 123%
Vitamin B6 (as Pyridoxine Hydrochloride) 0.98mg 58%
Vitamin B12 (as Cyanocobalamin) 0.9mcg 38%
Pantothenic Acid (as D-Calcium Pantothenate) 1.8mg 36%
Chromium (as Chromium Picolinate) 1.2mcg 3%
Chloride (as Potassium Chloride) 220mg 10%
Fat Mobilization Matrix - 1750 mg *
Acetyl L-Carnitine HCl, Glycine Propionyl-L-Carnitine Hydrochloride (GPLC GlycoCarn)
Hardcore Beta 3 Thermogenic Matrix 315.01 mg *
Conjugated Linoleic Acid (CLA), Bitter Orange Fruit Extract Powder (30% Synephrine Advantra Z), Raspberry Ketones (From Raspberry Fruit Extract), Evodiamine Fruit Powder (Evodia rutaecarpa), Chromium Picolinate
Nootropic Focus Cognitive Boosters 1018 mg *
Taurine, L-Tyrosine, Caffeine Anhydrous, Guarana Seed Extract (50% caffeine), Green Coffee Bean Extract (50% Chlorogenic Acid), Huperzia Serrata Whole Herb Extract (Huperzine A)
Immunity Booster Prebiotic 750 mg *
Vitamin C (Ascorbic Acid), L-Glutamine, Inulin Fiber
Full B Vitamin Spectrum 24.59 mg
Niacinamide, D-calcium pantothenate, Pyridoxine HCl, Riboflavin, Thiamine Mononitrate, Vitamin B12

Other Ingredients: Natural Flavor, Fruit & Vegetable Juice Powder (Color), DL-Malic Acid, Sucralose, Calcium Silicate, Silicon Dioxide, Potassium Chloride.