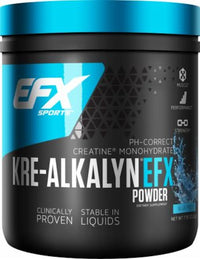 EFX Sports Kre-Alkalyn Powder
EFX Sports Kre-Alkalyn is a brand of creatine monohydrate supplement that claims to have a pH-corrected formulation, preventing the conversion of creatine to creatinine in acidic environments. Creatinine is a waste product that is not useful for athletic performance or muscle building, so the idea behind pH-corrected creatine is to enhance the stability and effectiveness of creatine supplementation.

Creatine is a popular supplement among athletes and bodybuilders because it is involved in the production of adenosine triphosphate (ATP), which provides energy for muscle contractions. Traditional creatine monohydrate supplements can convert to creatinine in lower pH environments, such as the acidic conditions of the stomach, potentially reducing their effectiveness.

Kre-Alkalyn, with its claimed pH range of 12-14, aims to address this issue by providing a more stable form of creatine that is less likely to convert to creatinine in acidic conditions. The suggested benefits include no loading phase, no bloating, and no side effects.
Supplement Facts
Serving Size: 2g (One Heaping Scoop) 
Servings Per Container: 110
AMOUNT PER SERVING % DAILY VALUE
Kre-Alkalyn(buffered creatine monohydrate) 1500 mg
† Daily Value not established.
Other Ingredients: Citric Acid, Natural & Artificial Flavors, and Sucralose.