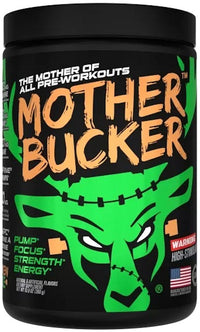 DAS Labs Mother Bucker Pre-Workout
Mother Bucker by DAS Labs. is particularly designed for serious and experienced individuals who have a high level of dedication and intensity in their workouts. The use of bold language and warnings indicates that the formula is potent and may not be suitable for everyone, especially those who are new to fitness or have certain health conditions.
Nutrition Facts
Serving Size 1 Scoop
Servings Per Container 20
Amount Per Serving % Daily Value*
Calories 5
Sodium 130mg 6%
Total Carbohydrate 1g < 1%
L-Tyrosine 1500mg *
Huperzine A 200mcg *
Caffeine Anhydrous 300mg *
Theobromine 100mg *
Beta-Alanine 6400mg *
L-Citrulline 4000mg *
Alpha GPC 300mg *
Nitrosigine (Inositol-Stabilized arginine silicate) 1500mg *
Himalayan Rock Salt 300mg *
Rauwolscine 2mg *
HydroPrime Glycerol 500mg *
Microencapsulated Delay Release Caffeine 100mg *
AstraGin (Astragalus membranaceus (root), Panax notoginseng (root)) 50mg *
Senactiv (Panax notoginseng (root), Rosa roxburghii (fruit)) 50mg *

Other Ingredients: Citric Acid, Malic Acid, Tartaric Acid, Natural & Artificial Flavors, Silicon Dioxide, Calcium Silicate, Sucralose, Beta-Carotene (for color).