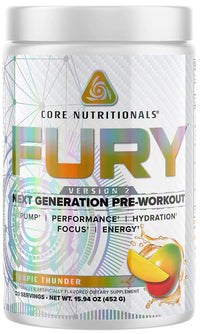 Core Nutritionals Fury Version 2 Pre-Workout
Core FURY Version 2 is designed to enhance athletic performance, hydration, mental clarity, and energy. Fury includes a combination of key ingredients known for their potential benefits in these areas.
Here's a breakdown of claims and their associated benefits:
For Athletic Performance: L-Citrulline: Known for improving blood flow and promoting muscle pumps.
VasoDrive-AP: A compound that claims enhance blood flow and contribute to improved athletic performance.
Citrapeak: Likely included for its potential benefits in hydration, power output, and endurance.
Senactiv: This may contribute to improvements in VO2 max and time to exhaustion.
For Cognitive Capacity, Clarity, and Focus: L-Tyrosine: A precursor to neurotransmitters that claims to help improve cognitive function under stress.
Alpha GPC 50%: A choline compound that claims to support cognitive function and memory.
Cocoabuterol: Potentially included for its stimulant properties and positive effects on mood and cognitive function.
Pregnenolone: A hormone precursor that may have cognitive-enhancing effects.
Supplement Facts
Serving Size: 1 Scoop (22.4)
Servings Per Container: 40
Potassium (as Albion Potassium glycinate Complex) 36 mg 1%
Sodium (as Sea Salt) 50mg *
Fury Pump Blend
L-Citrulline 3000mg *
VasoDrive-AP (hydrolyzed casein) 127mg *
Citrapeak (glucosyl hesperidin) 100mg *
Fury Performance Blend
Beta Alanine 1600mg *
Betaine Anhydrous 1250mg *
Senactiv (Panax notoginseng (root) and Rosa roxburghii (fruit) Extract) 25mg *
Fury Hydration Blend
Taurine 1000mg *
Albion Potassium Glycinate Complex 1000mg *
Sea Salt 130mg *
Fury Focus Bend
L-Tyrosine 1000mg *
Alpha GPC 50% 150mg *
Cocoabuterol Cocoa Extract (Theobroma cacao L)(seed) (std.to 50% cocoa alkaloids) 50mg
Pregnenolone 5mg *
Fury Energy Blend
Caffeine Anhydrous 125mg *
Caffeine Citrate (yields 50% Caffeine) 75mg *
ZUm-XR XR Caffeine 50mg *
Other Ingredients: Malic Acid, Silicon Dioxide, Natural and Artificial Flavor, Citric Acid, Sucralose, Acesulfame Potassium.