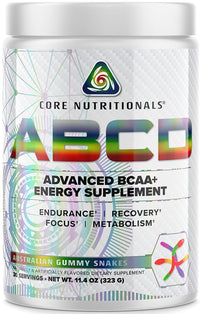 Core Nutritionals ABCD, is a supplement designed to combine amino acids and caffeine for energy, endurance, and recovery support.
Here's a breakdown of the key components and claims:

BCAAs (Branched-Chain Amino Acids): These are essential amino acids, including leucine, isoleucine, and valine, which play a crucial role in muscle protein synthesis, endurance, and recovery.

Acetyl-L-Carnitine: This is a form of the amino acid carnitine, which is involved in the metabolism of fatty acids and carbohydrates. It may support energy production and help transport fatty acids into cells for use as energy.

Caffeine: Caffeine is a stimulant that can enhance energy levels, alertness, and focus. ABCD added caffeine to boost physical and mental performance.
Supplement Facts
Serving Size: 1 scoop (10.75g)
Servings Per Container: 30
Amount Per Serving % DV
Branched-Chain Amino Acids (BCAAs)
L-Leucine 2500 mg **
L-Isoleucine 1250 mg **
L-Valine 1250 mg **
CarnoSyn Beta-Alanine1600 mg **
Acetyl-L-Carntine HCI 500 mg **
N-Acetyl-Tyrosine 500 mg **
Choline Bitartrate 500mg**
Caffeine Anhydrous 100mg**
** Daily Value not established.
Other Ingredients:
Natural and Artificial Flavors, Malic Acid, Citric Acid, Sucralose, Acesulfame-K.