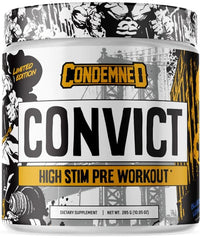 Condemned Labz Convict Pre-Workout
Condemned Labz Convict is positioned as a pre-workout supplement designed to cater to the needs of extreme athletes. The product claims to provide a range of benefits to enhance the workout experience.

Here's a breakdown of the claims and benefits:

Intense Energy:  Convict pre-workout claims to provide a high level of energy to help users tackle the demands of their intense workouts.

Powerful Muscle Pumps: Muscle pumps refer to the increased blood flow to the muscles during exercise, which may contribute to improved performance and recovery.

Elevated Thermogenesis: Thermogenesis is the process by which the body produces heat, often associated with increased metabolic rate and potential fat burning.

Individual responses to pre-workout supplements can vary, so it's advisable to start with a lower dosage to assess tolerance.
Supplement Facts
Per Serving Size: 1 Scoop (5.75g)
Servings per Container: 50
Vitamin B3 (as Niacin) 7.5mg 37.5%
L-Citrulline 2000mg **
Beta-Alanine 1250mg **
L-Tyrosine 250mg **
Caffeine Anhydrous 150mg **
2-Aminoisoheptane Hydrochloride 112.5mg **
Higenamine 25mg **
Paradoxine Grains of Paradise Extract (seed)(>12.5% 6-Paradol)(Aframomum melegueta) ) 7.5mg **
Bioperine (Fruit)(Black Pepper Extract) (<2.5mg **
Yohimbine HCL 1.5mg **
*Daily Value not established
Other Ingredients: Maltodextrin, Natural and Artificial Flavors, Malic Acid, Sucralose, Acesulfame Potassium, Silicon Dioxide.