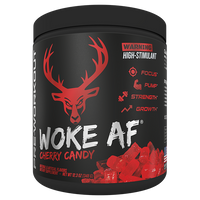 DAS Labs Woke AF 30 servings
DAS Labs WOKE AF which claims to be a stimulant-heavy supplement designed for intense workouts.

Let me break down the claims and key points:

Key Ingredients:

Caffeine (333mg): A high dose of caffeine is a central nervous system stimulant that can enhance alertness and reduce the perception of effort during exercise.
Dendrobium: This is a plant extract that is sometimes included in pre-workout supplements for its potential stimulant effects.
Synephrine: Another stimulant contained in WOKE AF is synephrine which is derived from bitter orange and is used to increase energy and metabolism.

Benefits Claimed:
Intense Pumps:  WOKE AF claims to increase blood flow to muscles during workouts, resulting in a more pronounced "pump" or muscle fullness.
Next-Level Focus: Indicating heightened mental concentration and focus during exercise.
Long-Lasting Energy: The combination of stimulants aims to provide sustained energy throughout your workout.
Target Audience: Not for Beginners: The product is explicitly marketed towards individuals with high tolerance to stimulants, implying it may be too strong for those new to such supplements.


Supplement Facts
Serving Size 1 Scoop (12.30g)
Servings Per Container30
Amount Per Serving % DV *
Vitamin B12 (As Methylcobalamin) 100 mcg 4,170%
Sodium 39 mg 2%
Citrulline Malate 2:1 6,000 mg *
Beta-Alanine 3,200 mg *
Caffeine Anhydrous 333 mg *
Theobromine 300 mg *
AlphaSize® Alpha GPC 200 mg *
Taurine 100 mg *
Himalayan Rock Salt—with Trace Minerals 100 mg *
Deer Antler Velvet Extract 50 mg *
AstraGin® (Astragalus, Panax notoginseng) 25 mg *
ActiGin® (Panax notoginseng, Rosa roxburghii) 25 mg *
Huperzine A (Huperzia serrata) Extract 50 mcg *
Other Ingredients: Natural And Artificial Flavors, Tartaric Acid, Sucralose, Silicon Dioxide, Calcium Silicate, Malic Acid, Red #40 Lake, Blue #2 Lake.