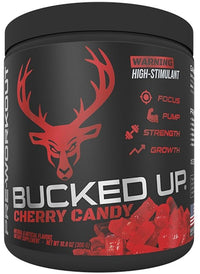 DAS Labs Bucked Up Pre-Workout 30 servings
DAS Labs Bucked Up Pre-Workouts and is marketed as one of the best pre-workout supplements on the market.

Ingredients: Bucked Up Pre-Workouts claims to be loaded with scientifically backed ingredients at clinically effective dosages. BUCKED UP does not use proprietary blends, meaning all ingredients and their dosages are transparent.

Effectiveness: The claim is that BUCKED UP is a game-changer and is effective for serious athletes and bodybuilders. The absence of proprietary blends is emphasized as an assurance of transparency.

Caffeine Content: Bucked Up Pre-Workouts contains approximately 200mg of caffeine per serving. Caffeine is a well-known stimulant that can help increase alertness and energy levels.

Creatine Free: Bucked Up Pre-Workouts is highlighted as being creatine-free. Creatine is a common ingredient in many pre-workout supplements and is known for its potential benefits in enhancing strength and muscle performance.

Supplement Facts
Serving Size 1 Scoop (9.96g)
Servings Per Container 30
Amount Per Serving % DV *
Vitamin B12 (As Methylcobalamin) 100 mcg 1,670%
Sodium 39 mg 2%
Citrulline Malate 2:1 6,000 mg *
Beta-Alanine 2,000 mg *
Caffeine Anhydrous 200 mg *
AlphaSize Alpha GPC 200 mg *
Taurine 100 mg *
Himalayan Rock Salt—with Trace Minerals 100 mg *
Deer Antler Velvet Extract 50 mg *
AstraGin (Astragalus, Panax notoginseng) 25 mg *
ActiGin (Panax notoginseng, Rosa roxburghii) 25 mg *

Other Ingredients: Natural And Artificial Flavors, Citric Acid, Silicon Dioxide, Calcium Silicate, Sucralose, Red 40 Lake.