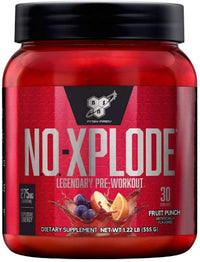 BSN NO Xplode Legendary 30 servings
BSN N.O.-XPLODE is a pre-workout supplement designed to enhance your workout performance and help you push harder and longer during your training sessions.

It aims to provide a variety of claims and benefits that may improve your overall exercise experience:

Increased Energy: N.O.-XPLODE typically contains ingredients like caffeine, which can boost your energy levels and combat workout fatigue. This increased energy can help you stay focused and motivated throughout your training.

Improved Focus: Some pre-workout supplements, including N.O.-XPLODE, contain nootropics or other ingredients that can enhance mental alertness and concentration. This can help you maintain focus on your workouts and exercises.

Enhanced Strength and Power: Certain ingredients in pre-workouts, such as creatine, can contribute to increased strength and power. This can help you lift heavier weights and perform more intense exercises, ultimately leading to better results.

Muscle Pump: Many pre-workout supplements, including N.O.-XPLODE, are designed to increase blood flow to your muscles. This can result in a "muscle pump," where your muscles temporarily appear larger and more vascular. It may also help with nutrient and oxygen delivery to the muscles, potentially enhancing their performance.

Endurance: Some pre-workout supplements contain ingredients that support endurance and reduce muscle fatigue. This can enable you to exercise for longer durations and get more out of your workouts.

Reduced Muscle Soreness: Some formulations include ingredients that may reduce post-workout muscle soreness, allowing you to recover more quickly and potentially train more frequently.

Better Performance: By combining these benefits, N.O.-XPLODE is designed to help you achieve better overall workout performance, leading to more significant gains and improvements in your fitness and training goals.

Pre-workout supplements can be effective for some people, but they may not be suitable for everyone. Additionally, individual responses to pre-workout supplements can vary, so it's advisable to start with a lower dose and assess its effects on your body.

Supplement Facts
30 Servings
Serving Size 1 Scoop (18.5 g)
Servings Per Container 30
Amount Per Serving % Daily Value
Calories 20
Total Carbohydrate 5 g 2%‡
Vitamin D 12.5 mcg 63%
Thiamin 2 mg 167%
Niacin 20 mg 125%
Vitamin B6 2 mg 118%
Folate 330 mcg 83%
Vitamin B12 6 mcg 250%
Pantothenic Acid 10 mg 200%
Calcium 40 mg 3%
Magnesium 125 mg 30%
Sodium 100 mg 4%
Potassium 200 mg 4%
N.O.-XPLODE® MASTER PERFORMANCE BLEND*
Myogenic Matrix* 5.1g **
Creatine Blend (Creatine Monohydrate, Creatine Anhydrous, Creatine Peptides [Hydrolyzed Whey Protein Isolate, Creatine Monohydrate] (CREActivate®)), Taurine, Di-Calcium Phosphate, Di-Sodium Phosphate, AstraGIN® Proprietary Blend [Astragalus membranaceus Extract (root), Panax notoginseng Extract (root)]
Endura Shot* 2.9g **
Beta-Alanine (as Carnosyn®), Potassium Bicarbonate, Sodium Bicarbonate, Magnesium Oxide, Cholecalciferol
Thermic Energy* 1.3g **
N-Acetyl-Tyrosine, L-Tyrosine, Caffeine Anhydrous, Grapefruit Bioflavonoids Complex, PURENERGY® (Caffeine-Pterostilbene Cocrystal)
N.O. Alpha Fusion* 1g **
L-Citrulline Malate, Danshen Extract (Salvia miltiorrhiza) (root), Grape Skin Extract, Phyllanthus emblica Extract (fruit) (CAPROS®), Hawthorn Extract (aerial parts), Folic Acid
Shock Composite* 290mg **
DMAE Bitartrate, (2-Dimethylaminoethanol), DL-Phenylalanine, Nicotinic Acid, Calcium D-Pantothenate, Toothed Clubmoss Extract (aerial parts), Thiamin HCl, Pyridoxine HCl, Cyanocobalamin