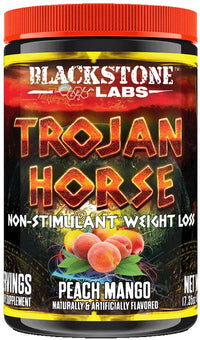 Blackstone Labs Trojan Horse 60 Servings
Blackstone Labs Trojan Horse is a non-stimulant fat burner that claims to support fat loss by assisting the body in using fatty acids for energy.

 Here are some claims, key features, and benefits of Trojan Horse:
Non-Stimulant Formula: Unlike many conventional fat burners that are loaded with stimulants, Trojan Horse is stimulant-free. This means it doesn't contain ingredients like caffeine or other stimulants that can cause jitters, anxiety, or crashes.

Fatty Acid Utilization:  Trojan Horse is formulated and claims to enhance your body's natural fat-burning mechanisms, specifically by promoting the utilization of stored fat for energy. This can help with weight loss and the reduction of body fat.

Stackable: Trojan Horse can be stacked with other stimulant-based fat burners if you want to boost your fat loss efforts further. This allows for a more customized approach to your weight loss regimen.

Year-Round Usage: Trojan Horse is advertised as suitable for year-round use, meaning you can incorporate it into your fitness and dietary routine consistently. 
Supplement Facts
Serving Size: 1 Rounded Scoop
Servings Per Container: 60

Chromium Picolinate 200mcg
Calcium Pyruvate 4000mg
Garcinia Cambogia Extract (std to 60% Hydroxycitric Acid) 750mg
L-Carnitine-L-Tartrate 500mg

Other Ingredients: Maltodextrin, Citric Acid, Erythritol, Natural and Artificial Flavors, Sucralose, Silicon Dioxide