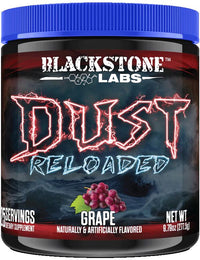 Blackstone Labs Dust Reloaded
Blackstone Labs Dust Reloaded is marketed and claim as a hardcore pre-workout supplement designed to enhance gym performance by increasing energy levels and focus. Dust Reloaded claims to help users push through tough workouts, even those with high rates of perceived exertion (RPEs).

Dust Reloaded claims to have a new formulation that provides more energy and focus without increasing the caffeine content, and it boasts full transparency with no proprietary blend.

If you're considering using Dust Reloaded or any pre-workout supplement, it's essential to read the product label carefully and remember that a balanced diet, proper hydration, and consistent exercise play crucial roles in achieving fitness goals, and should be used as part of an overall healthy lifestyle.

Supplement Facts
Serving Size: 1 Scoop (11.1gm)
Servings Per Container: 25
Potassium (from Nitrosigine) 80mg 2%
Beta-Alanine 2g **
Nitrosigine (Inositol-Stabilized Arginine Silicate) 2g **
L-Citrulline Silicate 1g *
L-Taurine 1g *
Betaine Anhydrous 500mg **
Caffeine Anhydrous 390mg **
Beta-Phenylethylamine HCI 200mg **
N-Acetyl-L-Tyrosine 150mg **
L-Norvaline 50mg **
Yohimbine HCI 2.5mg **
DiCaffeine Malate 10mg *
Stearoyl Vanillylamide 5mg *

Other Ingredients: Citric acid, Natural & Artificial Flavors, Silicon Dioxide, Calcium Silicate, Maltodextrin, Sucralose, Acesulfame Potassium, Salt

*Percent Daily Values are based on a 2,000 calorie diet.

*Daily Values Not Established