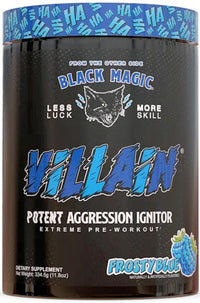 Black Magic Supply Villain
Villain from Black Magic Supply. Pre-workout supplements are designed to provide energy, focus, and endurance to individuals before their workouts. These products often contain a combination of ingredients, including stimulants and nootropics, to enhance physical and mental performance during exercise.

Supplement Facts
Serving Size: 1 Scoop (13.38gms)
Servings Per Container: 25
Amount per serving %DV
Vitamin B3 (as Niacinamide) 20mg 125%
Vitamin B12
Choline (as Choline Bitartrate) 500mg 91%
Sodium (as Himalayan Pink Sea Salt) 200mg
Potassium (as Potassium Chloride) 50mg
Beta Alanine 3200mg *
Agmatine Sulfate 1500mg *
L-Tyrosine 1500mg *
Nitrosigine (Inositol Arginine Silicate) 1500mg *
Alpha GPC 50% (L-Alpha-glyceryl phosphorylcholine) 400mg*
Caffeine Anhydrous 250mg *
ElevATP (Ancient Peat and Apple Extract) 150mg *
Xternergy (Extended-Release Caffeine) 150mg *
Organic Kelp (Ascophyllum nodosum) 125mg *
CognatiQ (whole Coffee Fruit Extract (Coffea Arabica) 100mg *

Total caffeine content is 400mg.