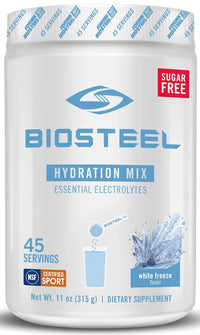 The BioSteel Hydration Mix appears to be a beverage designed to help maintain hydration while also providing other nutritional benefits.
Here's a breakdown of its key features and claims:

Sugar-Free: This means the product does not contain added sugars, making it a suitable option for those looking to limit their sugar intake.

Essential Electrolytes: Electrolytes are important minerals like sodium, potassium, calcium, magnesium, and chloride that help regulate various bodily functions, including hydration and muscle function. The inclusion of these electrolytes can help replenish what is lost through activities like exercise or sweating.

No Artificial Colors/Flavors: The absence of artificial colors and flavors indicates that the product's taste and appearance are derived from natural sources, which may appeal to individuals seeking cleaner and more natural options.

No Artificial Sweeteners: Artificial sweeteners, such as aspartame or sucralose, are not used in this product, which may be appreciated by those who prefer to avoid such additives.

No Preservatives: The absence of preservatives suggests that the product is formulated to be more natural and free from chemical additives that could extend its shelf life.

Caffeine-Free: The product does not contain caffeine, making it suitable for individuals looking for a non-stimulant hydration option.

Vegan: The "vegan" label means that the product is free from animal-derived ingredients, which may align with the dietary preferences of vegans and vegetarians.

NSF Cert for Sport: This certification from the NSF (National Sanitation Foundation) indicates that the product has been tested and certified for use by athletes and those in sports. This may be reassuring for athletes or individuals concerned about the quality and safety of their sports nutrition supplements.

Additionally, the mention of "added vitamins and minerals" suggests that the product may provide additional nutritional benefits beyond just hydration.


 Supplement Facts
Servings Size 1 Scoop (7gm)
Servings Per Container about 20

Calories 5
Total Carbohydrate 1 gm <1%
Sodium 140mg 6%
Calcium 18mg 2%
Magnesium 5mg
Potassium (as Potassium Citrate Monohydrate) 33mg
Zinc (as Zinc HVP Chelate) 0.16mg 1%
Biotin 0.3 mcg 1%
Vitamin B12 (as Cyanocobalamin) 0.3 mcg 13%
Folate 12mcg DFE (7mcg Folic Acid) 3%
Niacin (as Nicotinic Acid) 0.3mg 18%
Pantothenic Acid (as Calcium D-Pantothenate) 0.27mg 5%
Vitamin B6 (as Pyridoxine Hydrochloride) 0.3mg 18%
Riboflavin 0.3mg 23%
Thiamine (as Thiamine Hydrochloride) 0.3mg 25%

AMINO ACID BLEND
L-Leucine 1202 mg
L-Valine 544 mg
L-Isoleucine 544 mg
Glycine 460 mg
L-Glutamine 973 mg
Taurine 135 mg
Calcium Carbonate from Lithothamnion spp. (Aquaman) 36.6mg
Magnesium Citrate 13.6mg
Choline (as Choline Bitartrate) 300 mcg
Inositol 300 mcg

Other ingredients: Stevia (Leaf) Extract, Citric Acid, Malic Acid, Natural Flavor, Celtic Sea Salt, Sodium Citrate, Sunflower Lecithin (As An Emulsifier).