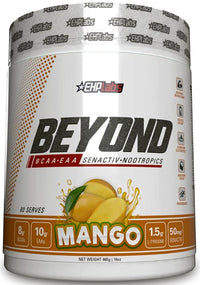 EHPLabs Beyond BCAA+EAA Intra-Workout
EHPLabs Beyond BCAA + EAA Intra-Workout is the most potent essential amino acid product with ingredients scientifically proven to elevate recovery, performance, and hydration. BEYOND comes in a range of delicious flavors and ticks all the boxes for those wanting to train harder, recover faster, and get results. 
Supplement Facts
Servings Size 7.1g
Servings per Container: 60
Amount Per Serving % DV
1 Scoop (7.1g)
Calories 5
Sodium 40mg

Total Carbohydrate 1g<1%
PERFORMANCE BCAA 5,000mg
iBCAA Leucine 2,000mg
iBCAA Isoleucine 1,000mg
iBCAA Valine 1,000mg
L-Phenylalanine 300mg
L-Lysine 275mg
L-Threonine 275mg
L-Histidine 75mg
L-Tryptophan 50mg
L-Methionine 25mg
MENTAL FOCUS MOOD ENHANCER 750.01mg
L-Tyrosine 750mg
Huperzia Serrata (1% Huperzine A) 5mcg
RECOVERY BOOSTER 25mg
Senactiv 25mg
* Percent daily value are based on a 2,000 calorie diet.

Other Ingredients: Natural Flavor, Malic Acid, Citric Acid, Sucralose, Sodium Citrate, Natural Colors (Red Beet, Beta-Carotene).