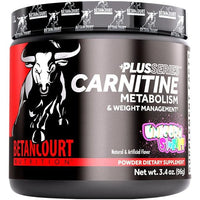 Betancourt Nutrition Carnitine Plus 60 servings
Betancourt Nutrition Carnitine Plus 60 servings
Simply consuming L-carnitine may not be enough to support increases in L-carnitine levels, there are different forms of L-carnitine available that are attached to different compounds that increase L-carnitine bioavailability and promote varying effects.
Supplement Facts
Serving Size: 1 Scoop (1.5 Gm)
Number of Servings: 60 Servings
Amount Per Serving % Daily Value
L-CARNITINE BLEND - L-CARNITINE L-TARTRATE, L-CARNITINE FUMARATE, ACETYL L-CARNITINE HCL 1,000 Mg N/A*
GAMMA-BUTYROBETAINE - ETHYL ESTER HCL 25 Mg N/A*
PARADOXINE GRAINS OF PARADISE - (STD. TO 12.5% 6-PARADOL) 15 Mg N/A*
BIOPERINE - (BLACK PEPPER EXTRACT)(STANDARDIZED TO 95% PIPERINE)(PIPER NIGRUM)(FRUIT) 5 Mg N/A*
Other Ingredients:
Natural and Artificial Flavors, Glycine, Citric Acid, Malic Acid, Sucralose, Silicon Dioxide.