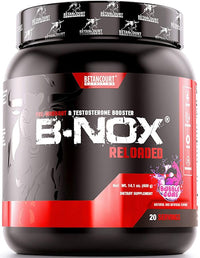 Betancourt Nutrition B-Nox Reloaded 20 servings
Betancourt Nutrition B-Nox Reloaded 20 servings 
B-NOX Reloaded has you covered in the 'fully dosed' pre-workout category with 5,000mg of straight citrulline and 2,500mg of betaine anhydrous. It also includes the full 3,200mg of CarnoSyn 

B-NOX Reloaded provides a blend of synthetic and natural caffeine sources at 300mg of caffeine per serving. Reloaded also provides natural caffeine sourced from green tea and green coffee bean extracts as well as Teacrine.
SUPPLEMENT FACTS
Serving Size 1 Scoop
Servings Per Container 20
Amount Per Serving % Daily Value*
Calories 20-
Total Carbohydrate 5g 2%
Vitamin B6 (as Pyridoxine Hydrochloride) 2mg 118%
Magnesium (as Magnesium Oxide) 105mg 25%
Zinc (as Zinc Oxide) 25mg 227%
L-Citrulline 5000 mg-
CarnoSyn Beta Alanine 3200 mg-
Betaine Anhydrous 2500 mg-
L-Taurine 1000 mg-
Energy and Focus Blend 775 mg-
(Caffeine Anhydrous, Theobromine, Glucuronolactone, Theacrine (as Teacrine) Green Tea Leaf Extract (standardized to 50% Caffeine), VegiSurge Green Coffee Bean Extract 99% Natural Caffeine.)
N-Acetyl L-Tyrosine 600mg *
Androrush Blend 425mg *
(Ashwagandha Root Extract, Tribulus spp Extract (standardized to 40% Saponins)(whole plant), Maca Root Extract 4:1, Stringing Nettle Root Extract, Diindolylmethane, Bioperine (Black Pepper Extract) (Standardized to 95% Piperine) (fruit))

Other Ingredients: Maltodextrin, Natural Flavors, Citric Acid, Sucralose, Silicon Dioxide, Malic Acid, FD&C Blue#1 FD&C Yellow #5 (for color).