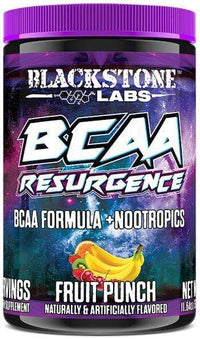 Blackstone Labs BCAA Resurgence 30 servings CLEARANCE
Blackstone Labs BCAA Resurgence 
Start with a refreshing dose of Resurgence first thing in the morning and continue to sip throughout the day. You can take a double scoop pre-workout and another 2 scoops post-workout to charge you through your workout and immediately following. Trying to get 4, 5, or even 6 liters of water in per day? Make it easy with BCAA Resurgence.
The best tasting, all day, every day, steady flow of amino acids and vitamins 
Supplement Facts
Serving Size: 1 Scoop (11g)
Servings Per Container: 30
Vitamin A 5000IU
Vitamin C 60mg
Vitamin D3 400IU
Vitamin E30IU
Vitamin K1 8mcg
Thiamin 1.5mg
Riboflavin 1.7mg
Niacin 20mg
Vitamin B6 2mg
Vitamin B12 6mcg
Biotin3mg
Panthothenic Acid 10mg
Resuragence FOcus Blend 640mg
L-leucine 2g
L-isoleucine 1g
L-valine 1g
L-lysine 1g
L-taurine 1g
Theonine 950mg
L-alanine 500mg
Methionine 300mg
Phenylalanine 150mg
*Percent Daily Values (DV) are based on a 2,000 calorie diet.
**Daily Value (DV) not established.
Other ingredients: Citric acid, Natural and Artificial flavors, Sucralose, Acesulfame-k, Silica.