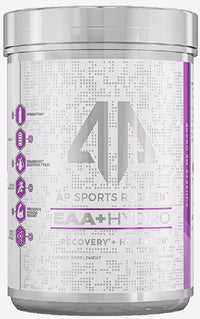 Alpha Prime Supps EAA Plus Hydro
Alpha Prime Supps EAA Plus Hydro is designed to provide essential amino acids (EAAs) and branched-chain amino acids (BCAAs) for athletes and individuals looking to support their muscle recovery and growth. Here's a breakdown of its key components claims:
Essential Amino Acids (EAAs): EAAs are amino acids that the human body cannot synthesize on its own and must be obtained through diet or supplements. These amino acids are crucial for various physiological functions, including muscle protein synthesis.

Branched-Chain Amino Acids (BCAAs): BCAAs are a subset of EAAs that consist of three amino acids: leucine, isoleucine, and valine. They are known for their role in promoting muscle protein synthesis and reducing muscle protein breakdown. The 2:1 ratio mentioned likely means that there's a higher concentration of leucine, which is the most potent stimulator of muscle protein synthesis among the BCAAs.
The combination of EAAs and BCAAs in this product can be beneficial for athletes and fitness enthusiasts as they can help with muscle recovery, muscle growth, and reducing muscle soreness after workouts.

Supplement Facts

Serving Size 1 Scoop
Servings Per Container 30
Amount Per Serving
% Daily Value*
Calories 0 g0%
Sodium 40 mg2%
Potassium 50 mg1%
Magnesium 20 mg5%
Added Sugars 0 g0%
Total Carbohydrates 0.5 g0%
Total Sugar 0 g0%
Total EAAs (Essential Amino Acids) 10500 mg-
Instant Vegan Fermented BCAA 2:1:1 7000 mg-
Other EAA (Essential Amino Acids) Blend 3500 mg-
Electrolyte Blend 500 mg-
Instant Vegan Fermented BCAA 2:1:1
((Vegan Leucine 3500mg, Vegan Isoleucine 1750mg & Vegan Valine 1750mg))

Other EAA (Essential Amino Acids) Blend
((L-Lysine 1500mg, L-Threonine 1200mg, L-Phenylalanine 500mg, L-Tryptophan 100mg, L-Methionine 100mg, L-Histidine 100mg))

Electrolyte Blend
(Aquamin 200mg, Potassium Citrate 175mg, & Sodium Chloride (Himalayan Pink Salt) 125mg.)
Other Ingredients: Citric Acid, Natural & Artificial Flavor, Sucralose & Silicon Dioxide.