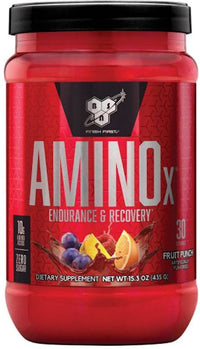 BSN AminoX 70 servingsCLEARANCE
BSN AminoX is a dietary supplement designed to support performance potential and muscle recovery. It contains an effervescent blend of amino acids, including Branched-Chain Amino Acids (BCAAs) and other essential amino acids such as L-Alanine, Taurine, and L-Citrulline.
Here's a breakdown of some key components and claims:

BCAAs (Branched-Chain Amino Acids): BCAAs consist of three essential amino acids – Leucine, Isoleucine, and Valine. They play a crucial role in muscle protein synthesis, helping to promote muscle growth and recovery, reduce muscle soreness, and enhance exercise performance.

L-Alanine: L-Alanine is a non-essential amino acid that can be converted into glucose in the body. It's involved in energy production and can help with muscle recovery.

Taurine: Taurine is another amino acid that plays a role in various physiological processes, including supporting cardiovascular health and helping with muscle function and recovery.

L-Citrulline: L-Citrulline is an amino acid that can help improve blood flow and vasodilation. It's often used to enhance exercise performance and reduce muscle fatigue.

The fact that this product is "effervescent" means it dissolves in water with a fizzing or bubbling action, which can make it more enjoyable to consume and easier to mix.

It's important to note that while dietary supplements like BSN AminoX can be a convenient way to increase your amino acid intake, they should not be used as a replacement for a balanced diet. 

Packaging May Vary
Supplement Facts
Serving Size: 1 Level Scoop (14.5g)
Number of Servings: 70 Servings
Amount Per Serving % Daily Value
Total Carbohydrate 1 Gm 1%
Vitamin D - (As Cholecalciferol) 500 IU 125%
Sodium 160 Mg 7%
AMINO ACID INTERFUSION - (MICRONIZED BCAA BLEND (L-LEUCINE, L-VALINE, L-ISOLEUCINE), L-ALANINE, MICRONIZED TAURINE, MICRONIZED L-CITRULLINE) 10 Gm **%
EFFORSORB ENDURA COMPOSITE - (CITRIC ACID, MALIC ACID, SODIUM BICARBONATE AND CHOLECALCIFEROL) 2 Gm **%